History of the Gulf Coast Wing
© Col. Kevin "K5" Michels
Special thanks to LC "Buddy" Cooksey, Pat Elliott, Brad Pilgrim, Ken English, Curt Rowe, Frank Hale,
Len Root, Everett Gibson and many others for their invaluable input
Last Updated On: 8/1/2021
The CAF was formed in 1957 by Lloyd Nolen with the $1,500 purchase of a P-51D Mustang. That "starter" aircraft is still with the CAF today and is known as Red Nose. The CAF has grown tremendously since its inception in Mercedes, TX nearly 65 years ago. As of 2021 the CAF is now custodian for 178 aircraft cared for by 86 Units in 26 US States and two foreign countries. Whatever grand visions Lloyd may have had in 1957, the CAF has certainly outpaced them.

The CAF did not always have the satellite Wings and Squadrons as it does today. In fact, until 1971 all aircraft, sponsors, and volunteers were nominally based at Headquarters. HQ was first located in Mercedes, TX before moving to Harlingen, TX in 1968. By 1971, the CAF realized that it needed to spread out. The reasons were twofold: 1) With all their aircraft in one location, there was concern that in the event of a flood, hurricane, or tornado that the CAF could risk losing its entire collection, and 2) the volunteer force needed to support this ever-growing fleet required a larger base than was present in the Harlingen orbit. As such, the first three CAF satellite units were created in 1971. In order of creation, they were the Minnesota Wing in St. Paul, the Dallas/Fort Worth Wing, and the Gulf Coast Wing in Galveston, TX.
Fledgling Gulf Coast Wing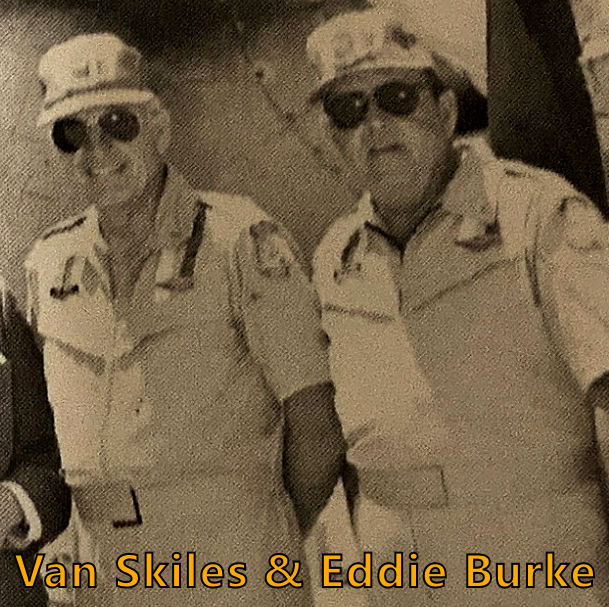 The Gulf Coast Wing (GCW) was chartered on September 19, 1971 with the original document displaying the signatures of Lloyd Nolan, the founder of the CAF and Deputy Commander Van Skiles.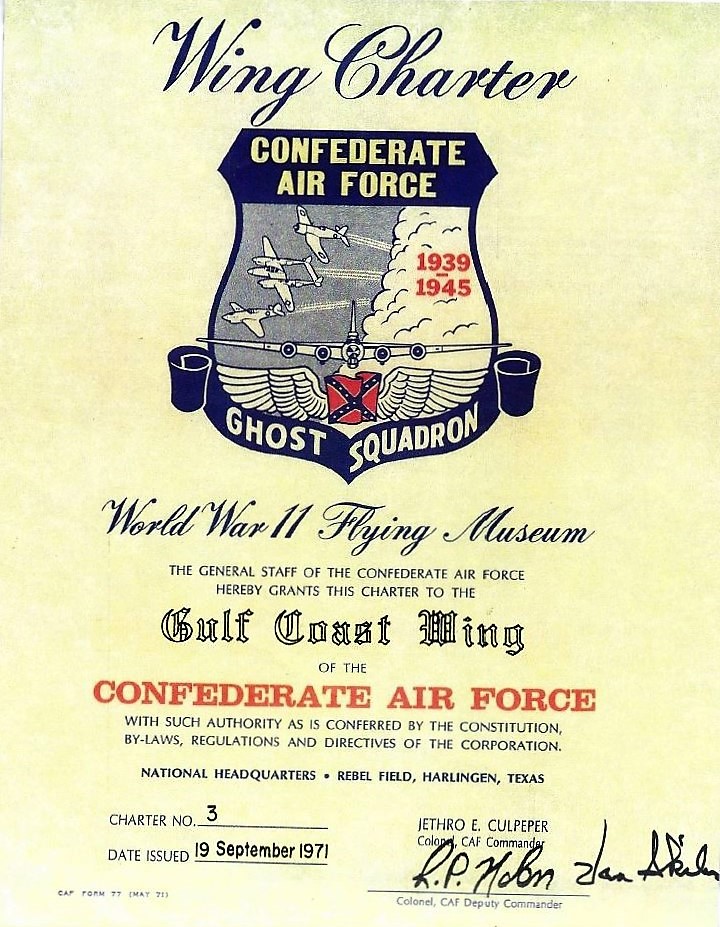 Van Skiles was also the first Wing Leader of the GCW with Eddie Burke serving as his Executive Officer. Eddie, Van & wife Betty Skiles were the cornerstones of the fledgling CAF unit.
Right from the start, the group had a tight-knit dynamic punctuated with lots of energy, excitement, and camaraderie.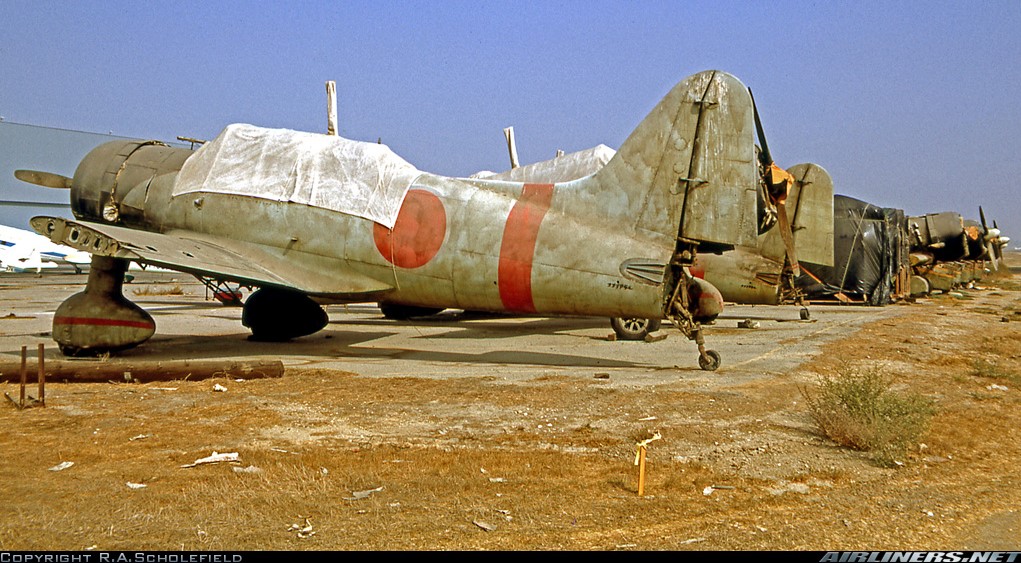 The Gulf Coast Wing (GCW) had to wait 8 months before being assigned its first aircraft, and it was not the B-17. In fact, the first aircraft assigned to GCW were six former movie prop aircraft that the CAF wasn't really sure what to do with. These aircraft had been purchased from 20th Century Fox in 1970 by Gerald Weeks, and then donated to the CAF the following year. As movie props, they weren't original Japanese planes, but heavily modified AT-6's and BT-13's. As it turned out, these weren't just any movie props. They were six of the 35 Zeros, Kates, and Val replicas made for the blockbuster 1970 movie "Tora! Tora! Tora!". These aircraft had been treated as castoffs by the studio, which is how Gerald Weeks came by them.
The accompanying picture was taken by R.A. Scholefield on October 17, 1970 and shows the condition of some of the 35 Tora aircraft at the time. The CAF was not sure what to do with "replica" aircraft since the organization was a stickler for authenticity. The savvy and motivated GCW group had just taken over responsibility for the Galveston Airshow from CAF Headquarters and they quickly saw the potential for an airshow act in these "castoff" planes. Now with aircraft to sink their teeth into, the GCW performed the necessary repairs to make their aircraft airworthy and planned their aerial choreography.
Before the Galveston Airshow could play out, the CAF's entire fleet of 20 American warbirds were invited by the Department of Defense (DoD) to be the headline act for their TRANSPO72 airshow in Washington D.C. TRANSPO72 was a commemoration of the new Washington Dulles airport, and the invitation to be the primary exhibit was a tremendous honor for the still-fledgling CAF. The airshow included a mass flyover of the Pentagon, the Potomac River, past the Capitol, and finally the new Dulles airport. Sixteen CAF aircraft made the flyover and the GCW was well represented with Van Skiles and Eddie Burke flying the CAF's crown jewel B-17 Flying Fortress as lead ship in the formation. The B-17 was not yet named Texas Raiders nor was the aircraft yet part of the GCW. That would be a few years in the future.
Tora Tora Tora
In preparation for the Tora debut at the Galveston Airshow, the GCW was hard at work choreographing an airshow routine. Tom Reedy came up with the original overall concept while Apollo 13 astronaut Fred Haise is credited with the Val portion of the act. Unrelated to the GCW at the time, Eddie Burke and Van Skiles were the primary flight crew for the CAF's B-17, still assigned to HQ. With this ace up their sleeve, the GCW was able to work the B-17 into the Tora act as well. In addition to amazing choreography, the GCW also managed to add smoke generators to one of the Zeros and to the B-17's #3 engine in time for the show. All the hard work and preparation was about to pay off in ways no one could have foretold.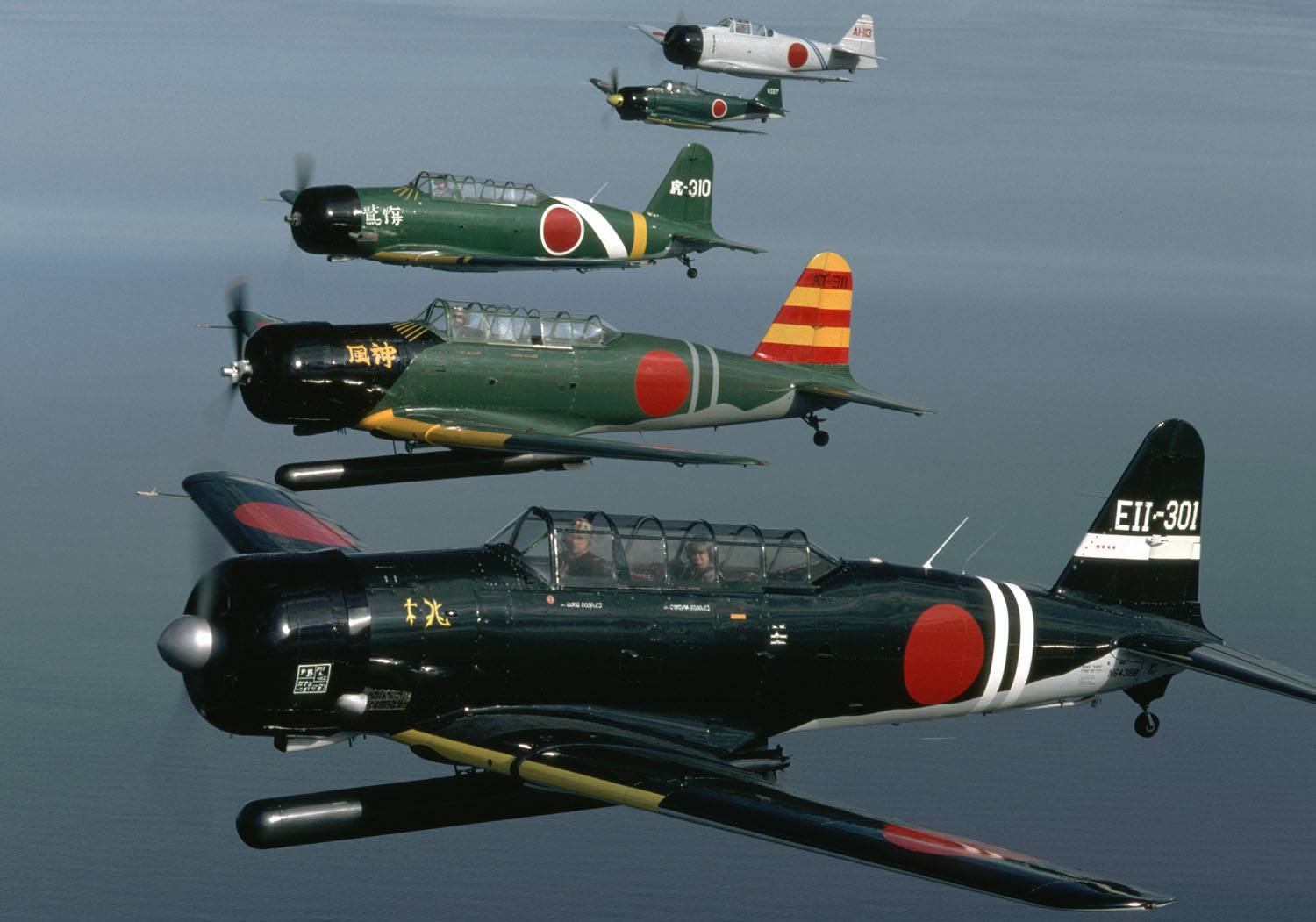 June 25, 1972 arrived and the Galveston Air Show was well attended. The inaugural Tora Tora Tora airshow performance was tee'd up and ready. The crews that day were: Bob Garrett, Kent Ross, Bob Bunton and Tora Lead Tom Reedy flying the Zeros. The Val dive bomber was flown by Fred Haise. The Kate torpedo bomber was flown by C.A. Skiles.
The two Wildcat pilots flying "defense" were Astronaut Joe Engel and Gerald Martin. The B-17 was flown by Van Skiles & Eddie Burke with Raymond Perry serving as Flight Engineer.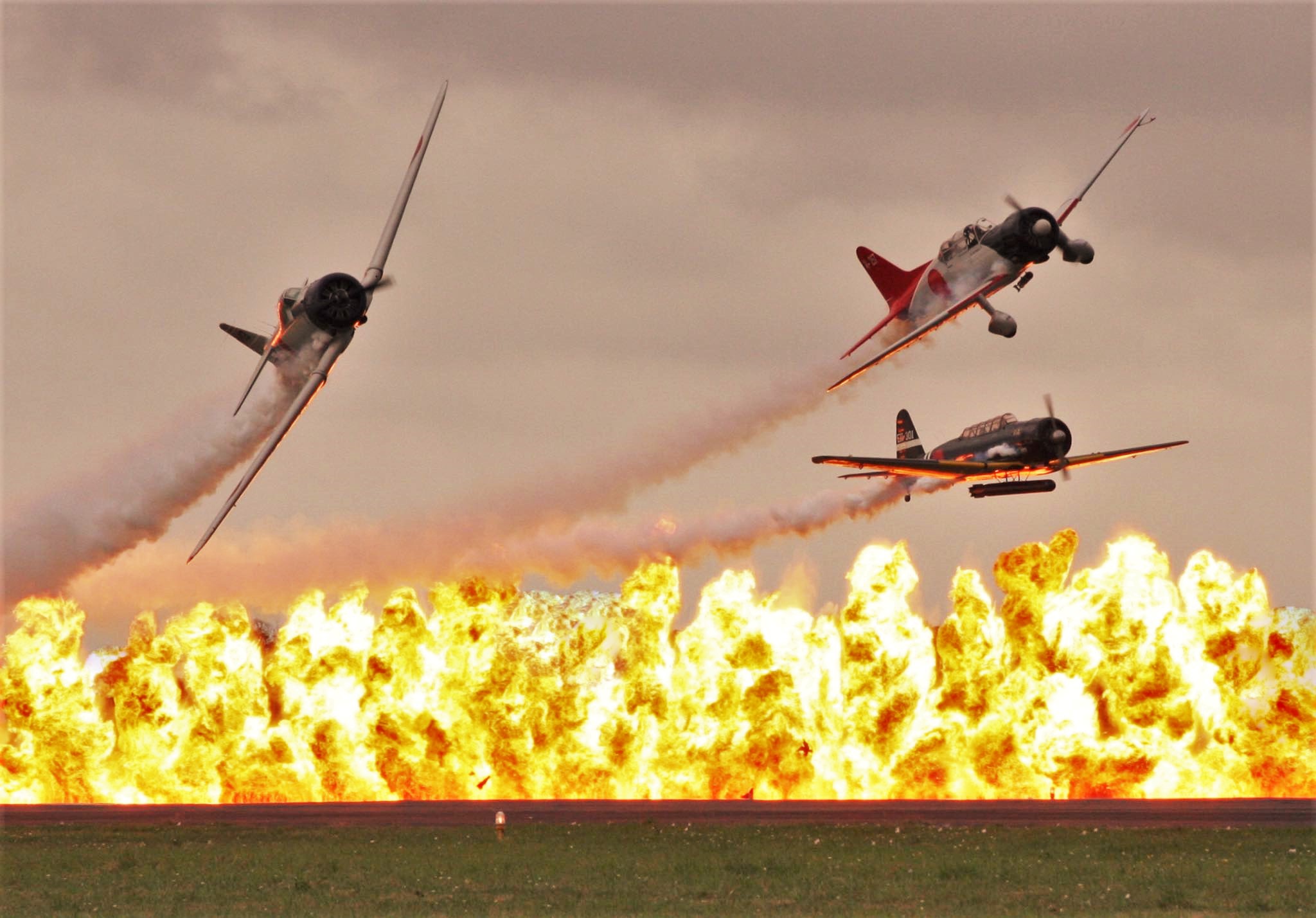 Though it would be unthinkable today, in 1972 the Tora aircraft, like many warbirds at the time, flew without radios. As such, the airshows were time-based and set to a strictly regimented timetable. Ground and Air components of the airshow were synchronized to the same clock including introductions, the Star-Spangled Banner, and Tora as the first airshow act.
The Tora attack aircraft dutifully showed up at exactly 12:10 as the schedule dictated. However, as airshows often do, the preliminary activities on the ground were running a few minutes behind. Thus, at 12:10 the Star-Spangled Banner was still playing when the first Japanese aircraft arrived, in a scene eerily similar to December 7,, 1941!
At first, the announcer and pyro team were just as shocked as the audience. Both quickly overcame their initial surprise and adjusted to match the Tora performance. B-17 pilot Van Skiles performed a one-wheel touchdown with the B-17 while Japanese aircraft and Wildcats swirled all around. At the end of the airshow act the Tora aircraft faded away. A silence fell over the crowd for several minutes as the significance of what had just happened sank in.
The performance kicked off GCW's operations and the Tora Tora Tora airshow act in a big way. The act was refined throughout the year as it was repeated at additional Texas airshows in Fort Worth, San Marcos, Wharton, Brownwood, and the CAF Headquarters AIRSHO in Harlingen. Today Tora Tora Tora is the country's longest continuously operating airshow and has been performed for nearly 50 years to millions of spectators.
In 1981, Charles Hutchens, then Tora leader, was instrumental in marketing the Tora act to airshows across the country. Original GCW members Buddy Cooksey and Mike Burke are still with Tora today. Mike is currently Tora Lead, and Buddy flies the B-17 as one of just two pilots qualified to do so. There are now three 2nd Generation Tora pilots flying today: Mike Burke (son of GCW co-founder Eddie Burke), Pat Hutchins (son of Charles Hutchins), and Dan Reedy (son of Tora airshow concept originator Tom Reedy).
A tremendously skilled pilot, Van Skiles repeatedly wowed the crowd by performing the B-17's one-wheel touchdown during Tora over the years. However, in 1983 Boeing put out a communique warning about the undue stresses that such a maneuver caused on the aircraft. Heeding the call to act, CAF Chief Pilot J.K. West sent out a memo to the membership disallowing one-wheel landings after the conclusion of the 1983 flying season.
Texas Raiders joins GCW
Eddie Burke is credited with coming up with the name "Texas Raiders" in 1973. In 1974, after years of the B-17 being assigned to Headquarters but spending most of her time with GCW crews, the aircraft was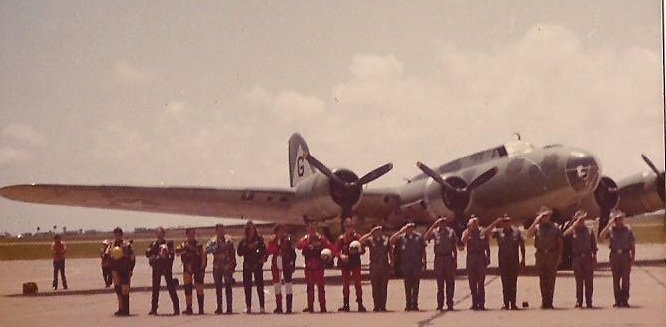 officially assigned to the Gulf Coast Wing, joining the Tora aircraft. In those early days, Texas Raiders (TR) spent the airshow season at the Galveston airport just ½ mile from the beach and unprotected from the salt air. October-April generally saw the B-17 returned to a hangar at CAF HQ in Harlingen for heavy maintenance.
It is important to note that until about 1978, the focus of the GCW was solidly on the Tora airplanes. B-17 Texas Raiders was just a sidelight until after she was repainted in 381st Bomb Group colors and had mockup top turret and ball turret shells installed, giving her a much more authentic B-17 look. These changes put Texas Raiders on the map, but TR would have to wait several years before receiving her major restoration to become a fully outfitted B-17G again.
The 1970's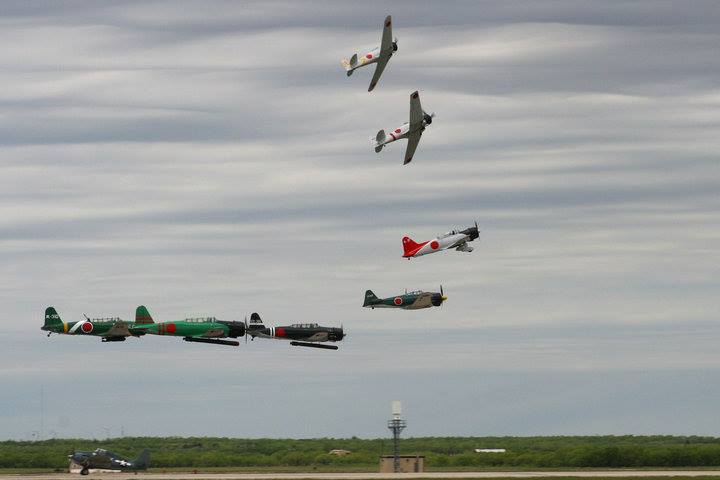 The 70's were a golden time for the CAF and GCW. By all accounts from those that were there, the unit was hard-working, tight-knit, and fun-loving. In addition to a long line of tenured CAF legends, the GCW's Tora aircraft were often flown by men who were legends in their own right. These aviators included WWII Marine ace Archie Donahue of VMF-214 fame and NASA astronauts Deke Slayton, Teddy Mendenhall, Fred Haise, Joe Engle, and NASA's chief pilot Joe Algranti (who reportedly could fly anything).
Tragically, one of the Val's had an engine quit on a cross-country flight. The result was a total loss of the aircraft and significant injuries to astronaut Fred Haise. After that, NASA published a communique forbidding astronauts from flying in CAF airplanes. Considering their considerable investment in time and expense into the training of these astronauts, NASA's aversion to anything they might consider "risky" is perhaps understandable.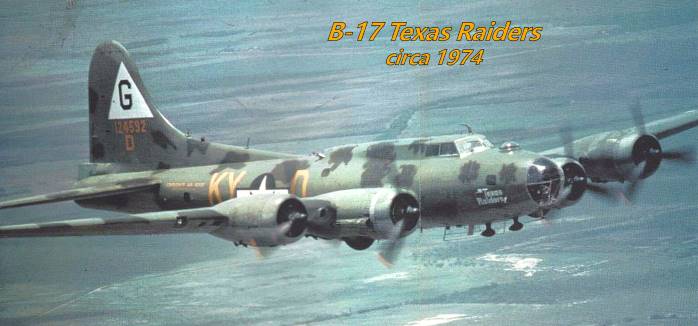 One of many tremendous assets to the GCW in the early days was former B-17 & B-29 combat pilot Carter McGregor. Retired Navy fighter pilot Jack Holden was also an instrumental contributor in the early days purchasing and donating aircraft for the Tora airshow act as well as financing many of the Wing's activities.
In 1979, retired General and 8th Air Force legend Ira C. Eaker flew with Texas Raiders and even took the controls for twenty minutes enroute to San Antonio. Retired General and father of strategic bombing Curtis LeMay was instrumental in critical early decisions made by the CAF & GCW regarding their newly acquired B-17. In 1983 he was given a tour of TR during its major restoration in which the General is quoted as saying, "we didn't have anything this good in Europe!".
Birth of Touring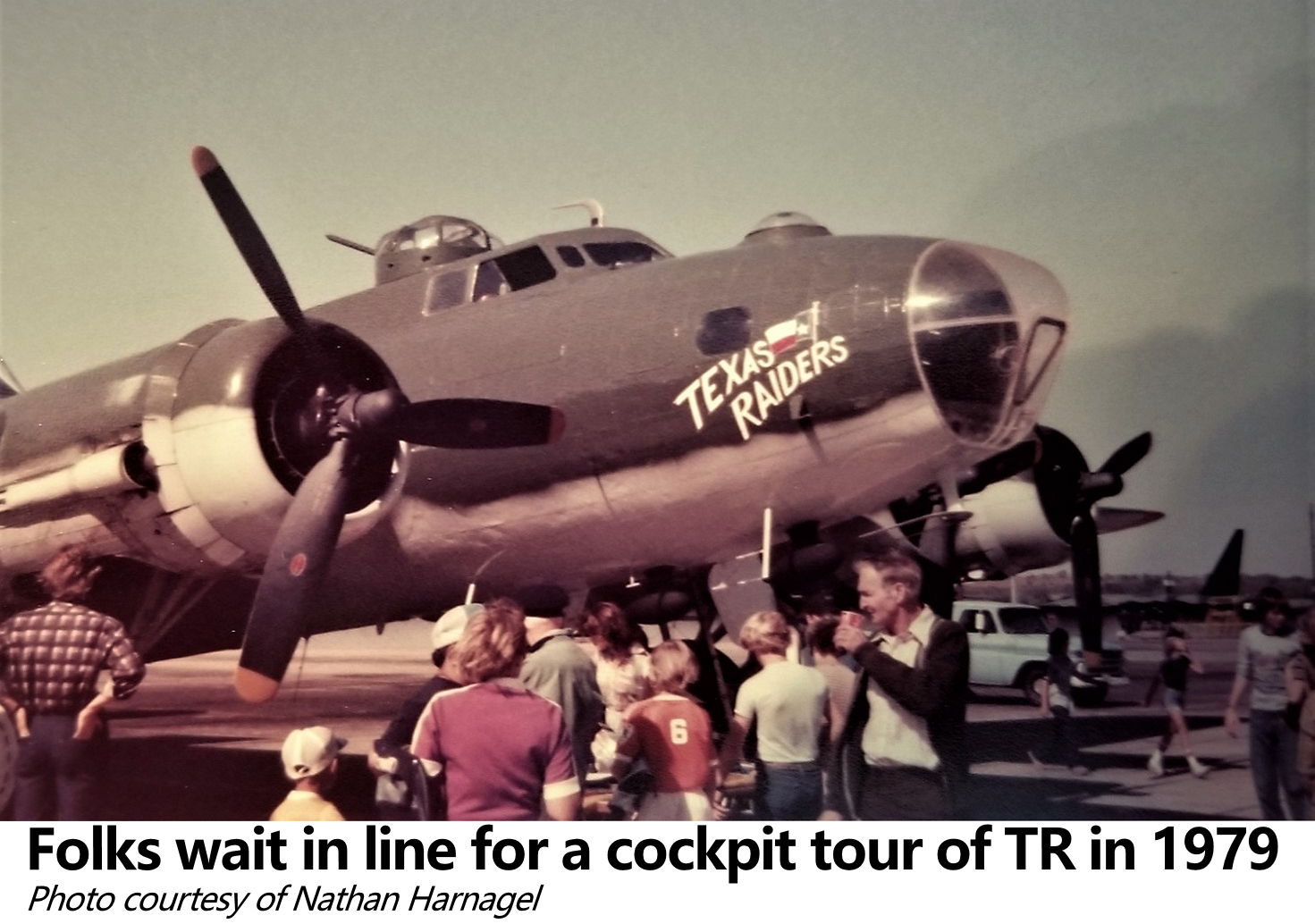 Can you imagine a time when warbirds did not tour the country? Amazingly enough, other than organized airshows, touring city to city just wasn't done until 1976. City to city touring was the brainchild of the CAF's Vic Agather. He came up with it as a solution to the daunting problem of how to finance the incredible cost of operations for B-29 Fifi. Two years later, in 1978, Texas Raiders tagged along with Fifi as the first B-17 to go on city to city tours. The Wing has been doing it ever since, and today warbirds of all kinds crisscross the nation every summer hitting tour stops in small towns and cities whose populations might not otherwise get a chance to see, touch, or ride in such historic aircraft.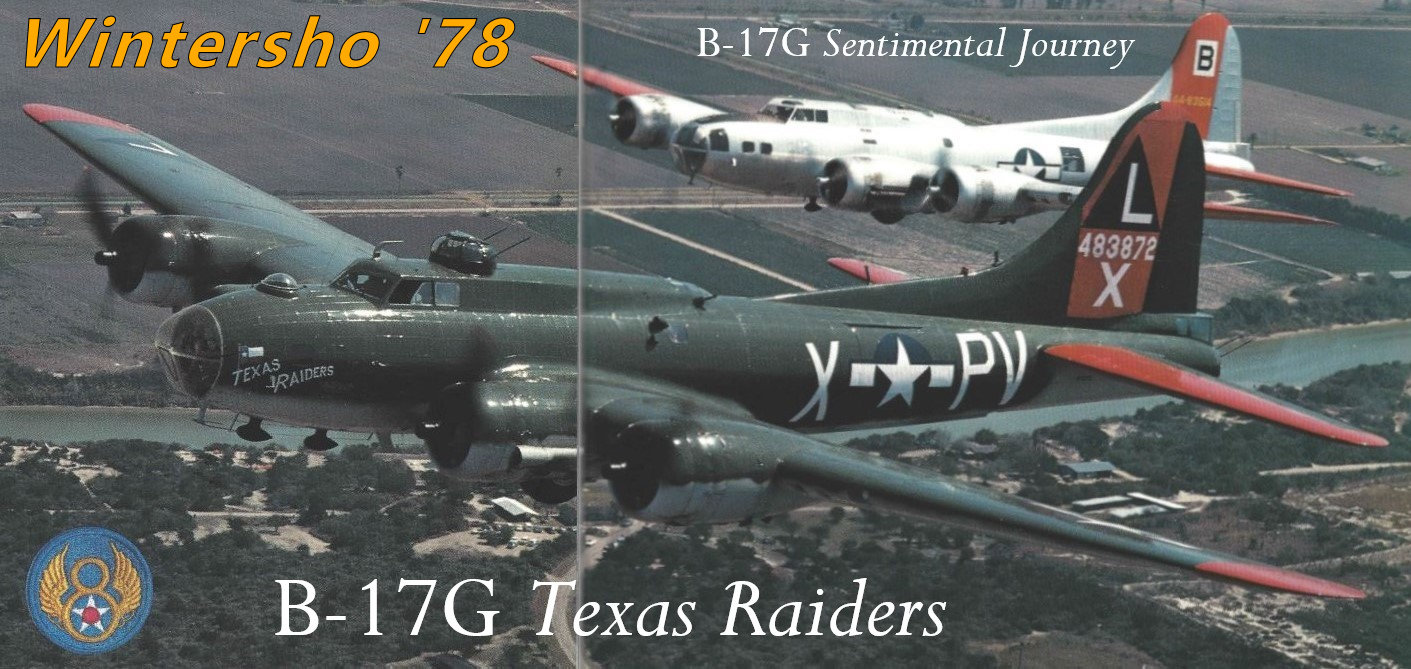 CAF aircraft performed in two CAF Headquarters sponsored airshows per year, WINTERSHO (Jan/Feb/Mar) and AIRSHO (Oct). Additionally, GCW Tora aircraft and TR performed in their own Galveston Airshow until it was superseded in 1984 by Wings Over Houston. Outside of those three guaranteed appearances, TR and the Tora group performed by invitation at military and civilian airshows. With the advent of city-to-city touring in 1978, TR would also stop at towns and cities along the way. This basic touring practice continues today.
In the late 1970's and early 1980's, when the GCW aircraft would be stars at an airshow, the Wing would bring along as many GCW members as possible. Most of the Tora aircraft had a rear seat and these were always filled. Texas Raiders had not yet undergone her interior restoration and therefore was still in the cargo configuration her previous owner, AeroService, had left her. Suffice to say that the interior of TR bore no resemblance to what she looks like today nor any wartime B-17G. The fuselage had two long bench seats that stretched from the flight deck to nearly the tailwheel. Combined these two benches sat 18 passengers with seatbelts.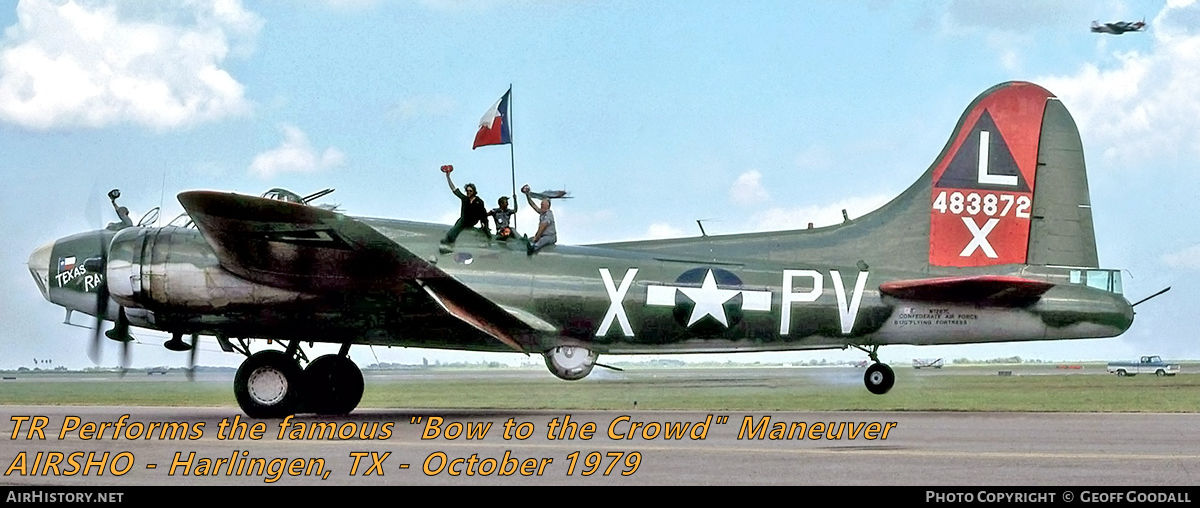 So configured and with pilots at the controls, the aircraft was typically filled with 20 GCW members at airshow arrival. Van Skiles, ever the showman, developed a maneuver called "Bowing to the Crowd" in which he would taxi up to the main crowd line, lock the brakes, extend the flaps, and rev the engines until the tail raised up. Odds are today's fans have never seen this maneuver unless they were at one of these airshows forty-plus years ago, as the maneuver was disallowed decades ago. Nor for that matter do crewmen sit on top the aircraft while the engines are turning, but it sure makes a great historical photo. The Wing is forever grateful to Geoff Goodall for capturing this unique and irreplaceable photo!
Aircraft No Longer Assigned to the GCW
It is easy to forget events of 20, 30, or 40 years ago. The world was a different place back then and the GCW was as well.
Over the years, several aircraft were assigned to the Gulf Coast Wing. In the mid-1970's a Douglas C-47 Skytrain was part of the Wing for a short time. In the late 1970's and early 1980's the Wing became enamored with restoring and flying Primary and Basic trainer aircraft. Wing newsletters from this early 1980's document at least one Fairchild PT-19 Kaydet, a Ryan PT-22 Recruit, and a Vultee BT-13 Valiant. Once brought up to flight status these small trainer aircraft flew to airshows right along with the B-17 and Tora aircraft.
From 2013 to 2015 the Wing took responsibility for a Stinson S-108-2 Liaison aircraft. This aircraft has since been reassigned to the Delta Blue Squadron in Memphis, TN.
Fundraising Activities
To finance the cash-hungry operations of a B-17 and a squadron of Japanese aircraft, the Gulf Coast Wing turned to every source at its disposal. Most of these are still practiced today and include ground tours, member donations, public donations, airshow appearance fees, T-shirt & memorabilia sales, and even the occasional corporate sponsorship.
In the 1970's adults could take a ground tour of Texas Raiders for just $2. In the 1990's it was $5, and by 2014 it had risen to $10.
Gulf Coast Wing aircraft have appeared in many TV shows and movies. A few were paid appearances and thus warrant discussion here. A somewhat ironic opportunity occurred with the Tora aircraft. Remember that in 1970 all these aircraft had been spurned by 20th Century Fox and Hollywood in general. But in 1976 two of the Tora Zeros were asked to participate in the filming of Universal Studio's hit TV show "Baa Baa Black Sheep". In 1980, the Tora aircraft were again tapped by United Artists to appear in their blockbuster movie, "The Final Countdown". If an aircraft could smile and snicker, this would have been the time.
Not to be left out, Texas Raiders has been featured in many documentaries, a TV miniseries, and several "B" movies, and in 2016 she was featured in "Last Man Club".
Invariably some entity is responsible for the upfront costs of putting on an airshow. And whereas those costs are enormous, barring bad weather or other calamity, there is usually some money left over at the end for the entity to use for a good cause. The Gulf Coast Wing was responsible for the Galveston Airshow from 1972-1983. In 1984, that airshow gave way to the much larger Wings Over Houston airshow, which is jointly run and operated by the CAF's Houston Wing, Gulf Coast Wing, and Tora Tora Tora. Today it is one of the country's most widely attended airshows. Each year it is anchored by one or more jet teams. These teams include the Navy's Blue Angels, USAF Thunderbirds, F-22 Demo Team, and the Canadian Snowbirds. They are accompanied by at least fifty other aircraft both modern and classic. The full cost of putting on the airshow is shared by the three units. Most years result in net positive proceeds to defray costs of continued operations of their aircraft.
The FAA breaks all aircraft into three classifications: Standard, Limited, and Experimental. Most warbirds are in the "Limited" class and the FAA strictly forbade selling rides on Limited class aircraft until a formal program was developed by the agency in 2001. As such, the Wing could not sell rides on its aircraft for most of its history. However, the prohibition on sales of rides was not a prohibition on riding, per se. Warbird operators just weren't allowed to sell the ride. The Wing did occasionally have non-CAF members on board during flights which typically included members of the media, VIP's, or even an FBO employee who had been of great help during a tour stop. Although it was not a regular occurrence, non-CAF members might also have found themselves on a ride on Texas Raiders after a large donation was made or as the Grand Prize at a fundraising raffle. If this sounds like a gray area, it was. It is also possible that this gray area increased pressure on the FAA to create a formal rides program.
All of these fundraising activities worked well to make ends meet in the 1970's, 1980's, and even into the 1990's. But warbirds' voracious appetites for the ever-increasing expense of AvGas, increasingly scarce parts, and rising insurance premiums had increased the cost of operating warbirds beyond the reach of available fundraising methods. Some operators couldn't make ends meet. For a while, it seemed like it might be the end of large warbird flight operations. It was at this time that the FAA stepped in with the Living History Flight Program (LHFE) as both a financial lifeline to warbird operators and way to open to the public an educational experience previously available only to the very few. Today the LHFE program is what stands between keeping TR flying and letting it collect dust in a museum.
Fans can take a life-changing Living History Flight Experience on TR for as little as $495.
Gulf Coast Wing Pivots to the 1980's
In 1980, a new generation of leadership came to the GCW. Van Skiles, who can rightly be called the father of the GCW, stepped down as Wing Leader on August 26, 1980. He was succeeded by Skip Bailey. Skip was followed a few years later by Platt Thompson and then by Pat Elliott. Whereas this changing of the guard marked the end of a great era for the GCW, some significant changes were made possible under the new generation of Wing Leaders. Most notably, Texas Raiders began receiving the restoration attention necessary to restore the look and feel of the combat-configured B-17G we recognize today. Equally important was a change in philosophy regarding flight crews. As amazing as it may sound Van Skiles and Eddie Burke were TR's only regular flight crew prior to 1982 (J.K. West and Dellon Bumgardner flew TR occasionally).
In late 1981 the decision was made to fly TR using a cadre of pilots instead of one dedicated crew. The now legendary Buddy Cooksey and Pat Elliott were two of the first to get the Wing's blessing to fly Texas Raiders, with Pat earning his B-17 Command Pilot rating in 1982 under CAF Chief Pilot J.K. West. Because TR did not fly from 1983-86, Buddy was joined by Frank Hale and Walt Thompson in 1986 as B-17 Command Pilots.
Ralph Royce is known throughout the airshow world as one of the best Air Bosses a unit could want. What is less known is that he cut his teeth in the Gulf Coast Wing. Reading through Wing Newsletters from the late 70's and early '80's show that Ralph was instrumental in just about everything going on with the Wing. If there was a difficult job that had to be done but nobody wanted it, Ralph made sure it got done.
In 1988 while on a cross-country flight nearing Kansas City, the Air Traffic Controller asked the pilots of Texas Raiders if they could drop altitude. It was a cold day and Dellon Bumgardner and Frank Hale were happy to get to a lower, warmer altitude. Then the Controller asked if TR could come down lower and do a flyby of their tower. Well, what pilot wouldn't want to do that? Sure, happy to oblige! Next the Controller wanted to know if TR could circle the tower. Are you kidding? So, they did as they were asked. Six months later, Frank Hale was sitting in a lounge with another pilot who regaled him with a story about how he was sitting in Kansas City waiting to catch a plane when a B-17 buzzed the tower!
TR's Major Restoration
While the Tora aircraft continued performing their increasingly popular airshow from 1983 to 1986, Texas Raiders relocated back to Hobby airport once again to undergo what is now referred to as the "Major Restoration."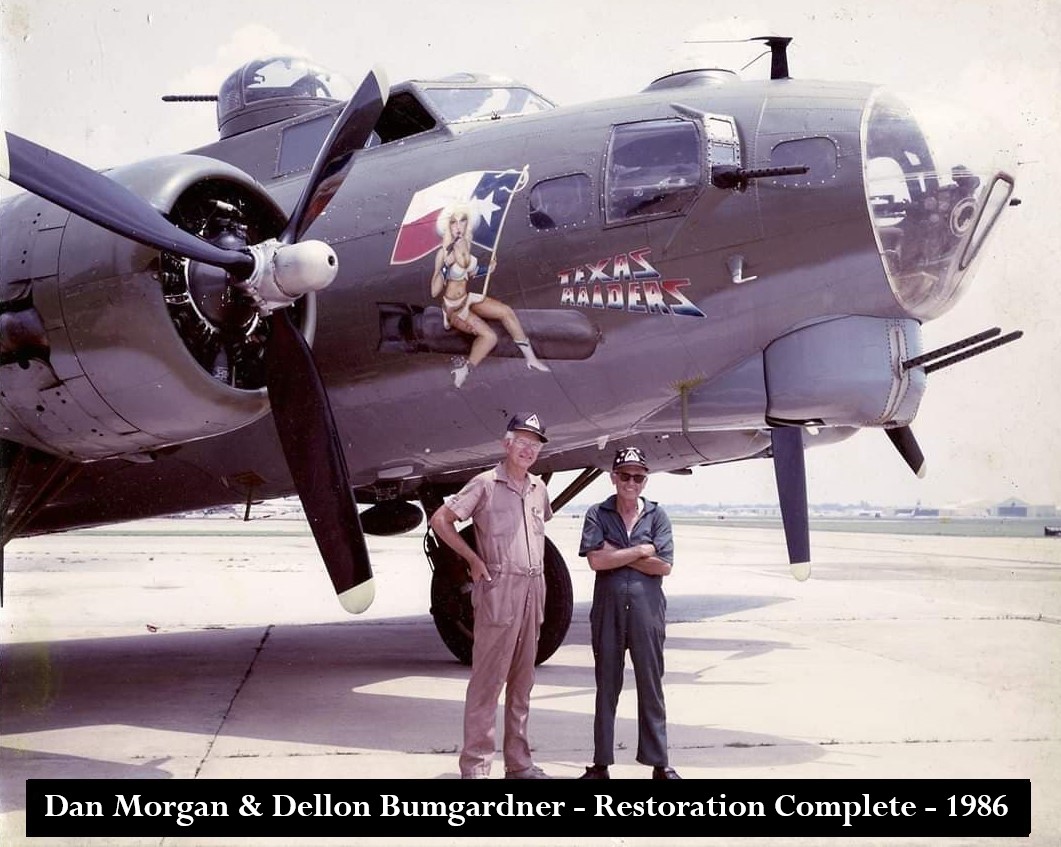 TR was stripped down nose-to-tail, wingtip-to-wingtip and rebuilt using original blueprints and pallets full of original B-17 turrets, equipment, and parts under the supervision and overall leadership of Pat Elliott. Known as "Col. Cool", he led a team of undaunted and tremendously hard-working contributors such as Gary Judkins, Tommy Garcia, Dan Morgan, Scott Royce, Richard Black, Buddy Cooksey, Maintenance Officer Dellon Bumgardner and dozens more.
The latter was a WWII combat veteran who flew B-17 "Beguin the Beguine". After untold thousands of volunteer hours and ~$300,000, TR emerged in June 1986 in perhaps the best condition of her 41-year life. Fully and accurately configured inside and out, TR received a well-deserved award from AIR CLASSICS magazine as the "best restored B-17G bomber currently flying in the world."
Into the 1990's
Still riding high with one of the country's most popular airshow acts (Tora Tora Tora) and the reputation as the best restored B-17 in the world (Texas Raiders), the 1990's dawned with a busy schedule of airshow and touring. As with previous decades, the '90's brought with it new, exciting, and occasionally painful change.
The Gulf Coast Wing had gone almost ten years without minting a new B-17 pilot. In fact, TR was being flown by the same cadre of pilots since the completion of her major restoration. That all changed in 1993 when a new generation of Texas Raiders pilots was ushered into the right seat. The first was Len Root, followed shortly thereafter by Ken Hyman. In 1995 Len earned his B-17 rating and was upgraded to Pilot-In-Command.
He didn't know it at the time, but Len Root will become the Gulf Coast Wing's most senior pilot with the upcoming retirement of Buddy Cooksey at the end of the 2021 season. Buddy, a founding member of the Gulf Coast Wing, has flown every aircraft in the Tora group and has flown Texas Raiders since 1983. Gulf Coast Wing members are proud and honored to have benefitted from their steadfast commitments to the Wing and decades of service.
The popular Tora Tora Tora act performs nearly every year at EAA OshKosh AirVenture, the nation's largest airshow. Texas Raiders was present in 1977, 1991, 1993, 1995. The 1995 OshKosh Airshow honored the 50th Anniversary of the end of WWII. It was punctuated by five attending B-17 Flying Fortresses that flew in formation with P-51 Mustang fighter escort.
Texas Raiders also appeared at some important large gatherings of Fortresses in the '90's. The first of these was at Geneseo, NY in 1990, 1991, and 1993. All three of these airshows had between three and five B-17's present plus a B-24. In 1991 and 1993 an Avro Lancaster joined in as well. In 1990 and 1991 Texas Raiders participated in a "bomb drop" consisting of watermelons and pumpkins. Most of the runs consisted of small melons and gourds, but on the last day of the 1990 show, a 90-lb pumpkin was found, muscled into the bomb bay, strapped in and dropped on target. Frank Hale claims they are still clearing pumpkin "shrapnel" from the fields after that one!
International Operations
The Gulf Coast Wing has sent Texas Raiders on several international tours as well. TR was in Monterey, Mexico in 1980 and from 1988 to 1991 the GCW sent TR to Mexico three more times: Cuernavaca in November 1988, then Guadalajara, and finally to Monterey in September 1991. On the way to Mexico, TR was leading a formation of CAF aircraft. As this was in the days before GPS, charts were the only navigational guide. In the air over a foreign country the only available chart was suddenly sucked out the window, but TR's crew found their way to Monterrey safely.
In 1982 Texas Raiders traveled North of the border to be the star attraction at an airshow in Hamilton, Canada near Toronto. In the summer of 1997, she set out again for our northern neighbor, with stops in six mid-size cities across Alberta & British Columbia and Calgary, as well as two Canadian air show appearances. In the middle of that Canadian tour, TR also stopped in Fairbanks, Anchorage, and Juneau, Alaska.
Over twenty years later the crews are still talking about that trip! International visas have proven tricky in the post-9/11 world, however. Between that and the sharp increase in the price of AvGas, maintenance, and parts, duplicating those tours would be difficult to re-create today.
Wing Spar Air Worthiness Directive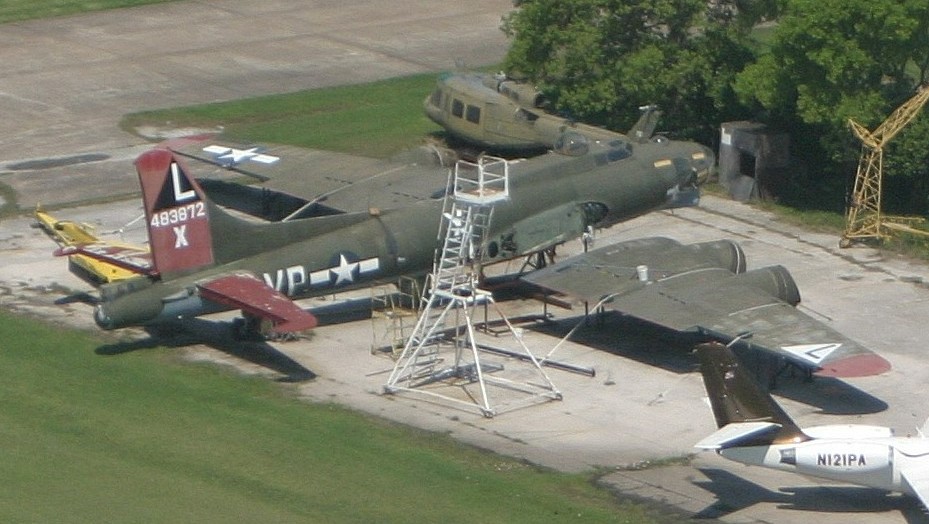 In 2001, Texas Raiders was moved to Hobby Airport for the FAA mandated Wing Spar Airworthiness Directive inspection and associated corrosion repairs that all B-17's were required to undergo. Whereas the inspection and repairs were initially estimated to take six months, unexpected findings and difficult repairs kept TR grounded for eight years. The long and expensive project consumed vast sums of effort and capital while simultaneously preventing TR from participating in fundraising activities like touring or the newly minted LHFE program.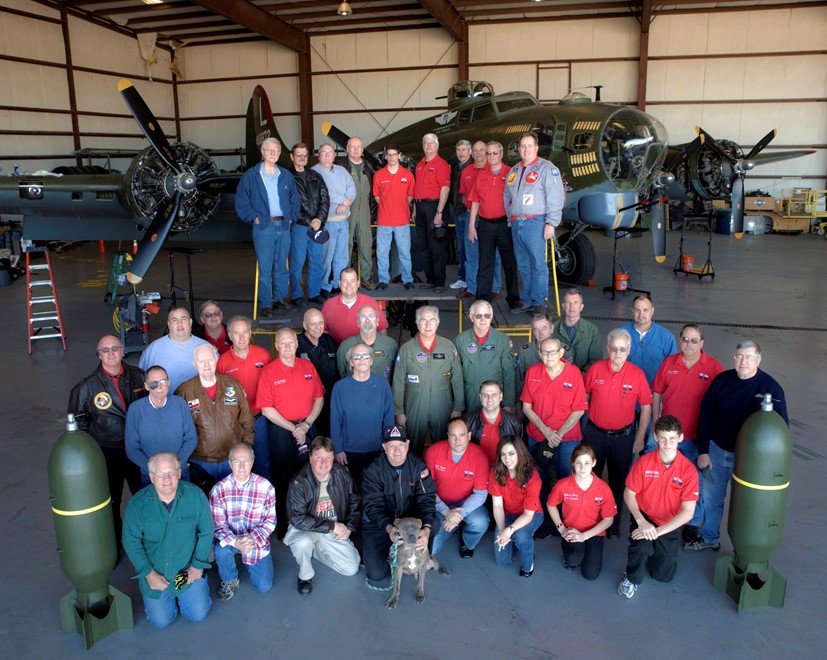 Bringing TR back to airworthiness nearly bankrupted the GCW and enflamed tensions between the two sides of the house. Walt and Sandy Thompson were instrumental in raising the enormous funds required to complete the work. Labor was a mix of paid and volunteer work. The list of participants could never fully be given, but was led by Tom Newton, Chuck Conway, David Carr, Ken Hyman, Bud Bearce, Ole Nygren, and dozens more.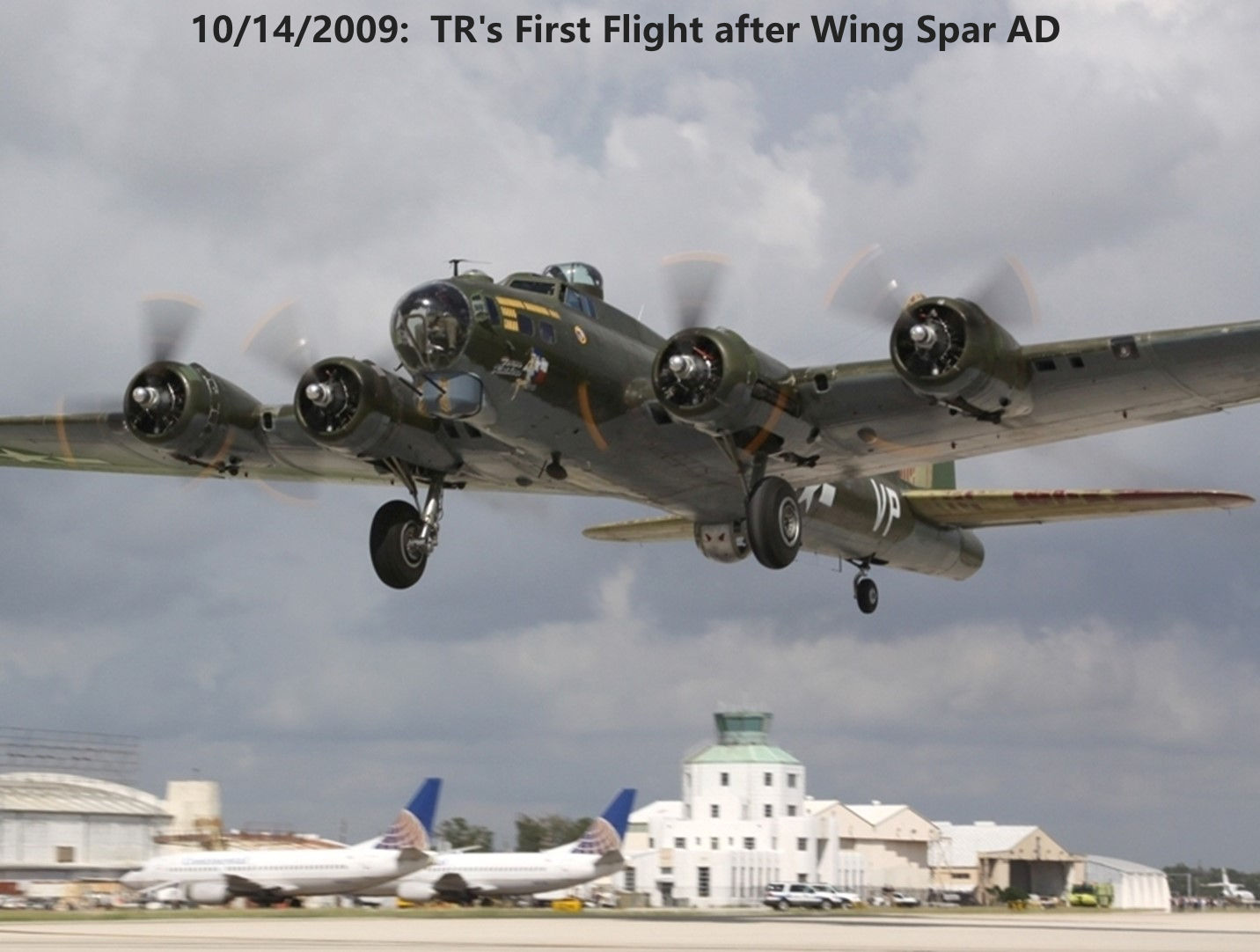 The unforgiving and heavy job of leadership during this trying period was borne by Ken English and Don Price. By the Fall of 2009, the GCW had corrected and abated all the corrosion issues, reassembled the aircraft, and received a clean bill of health from the FAA. On October 14, 2009, Texas Raiders triumphantly returned to flight.
2010 Brings a New Home – With a Roof and Everything!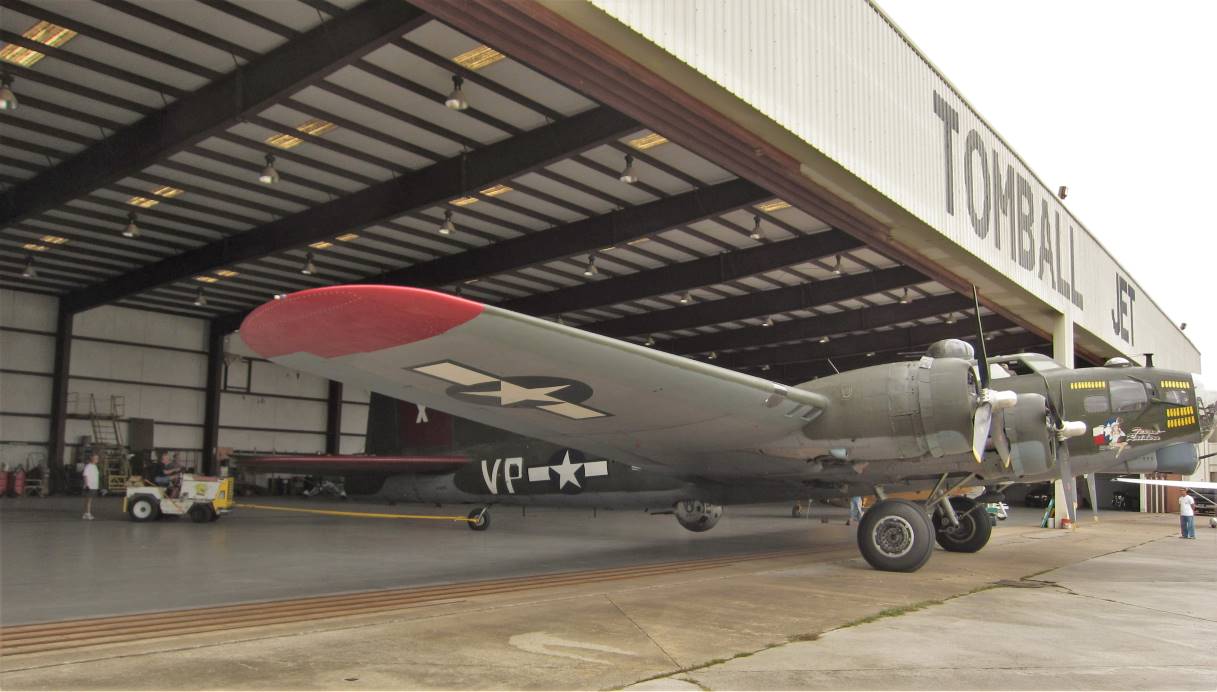 Shortly after TR's return to flight status in the Fall of 2009 a directive came down from CAF Headquarters requiring that Texas Raiders would heretofore be kept inside a hangar. If the Gulf Coast Wing could not adhere to that, Headquarters would find a unit that could. This instruction was given with the clear intent of preventing future corrosion issues as a result of being left out in the elements. The directive was a mixed blessing.
The GCW had long sought to keep Texas Raiders in a hangar, so the unit backed the intent. Unfortunately, it had taken nearly every dollar to bring TR back to flight status. Trying to find suitable hangar space at a price the GCW could afford under normal circumstances had thus far been elusive. But having just brought the aircraft back to flight status, the GCW wasn't about to lose TR now.
A hangar was found! It was an hour's drive North at David Wayne Hooks Airfield in Spring, TX at Tomball Jet Center. Most importantly, this change of venue kept the salt air and elements from creating the corrosion issues that had vexed TR and the GCW for so long. Unfortunately, this was less than ideal for some of the existing membership, as the new location put TR out of geographic reach for some volunteers. As a result, the Gulf Coast Wing suffered an unusually large turnover. Fortunately, there was a new untapped pool of volunteers in the Spring area, many of whom poured in to fill the void.
Home is Where the Aircraft Are
Both the Tora aircraft and Texas Raiders did a lot of moving around over the years. Texas Raiders did not benefit from a hangar until 2010, mostly because a hangar big enough to house an airplane with a wingspan of nearly 104 feet was outside the budget of both the CAF and the GCW. Several attempts were made to secure funds for a hangar, but in the early days they fell short or were superseded by more pressing concerns.
The Gulf Coast Wing originally kept Texas Raiders at Scholle Field on Galveston Island, where she was fully exposed to the corrosive salt air of Galveston Bay. TR was kept there until May 1980 when she was moved to the Houston Air Center at Hobby Airport. In 1986, TR moved again just a few miles to the Southeast at Ellington Field, but again closer to ocean. She spent some time bouncing back and forth between Hobby and Ellington to better facilitate various projects.
In 2010, following a major corrosion abatement program, TR relocated to David Wayne Hooks Airport in Spring, TX. In 2017, Texas Raiders was moved a final time to where she currently resides at North Houston Regional Airport in Conroe, TX.
The Tora aircraft were almost always kept at a different airport than Texas Raiders. Given their much smaller size, finding hangar space at a reasonable cost was not problematic. For the first four years, the Tora aircraft were hangered at Bailes Field in Angleton, TX. In 1976, they started migrating to Clover field in Pearland, TX. Three aircraft bucked that trend with one moving to Scholles Field in Galveston, one to North Houston Regional Airport in Conroe, TX, and the last one remaining at Bailes Field. Over time, all the Tora aircraft migrated to hangars at or near their primary pilot's home with no two Tora aircraft in the same location.
Breaking Up the Band
The GCW had become a large and important unit of the CAF, but there were two sides to the house. For many years Tora and TR with their different aircraft, crews, maintenance needs, and sometimes conflicting priorities coexisted quite well. By the late 1980's however, the two sides started to become less aligned under different business models, and those sometimes-conflicting priorities started to create friction. Indeed, just the fact that the aircraft were kept at different airports made housekeeping items as simple as a monthly Wing meeting difficult.
By 2011, it had become clear that Tora and TR would be better served as separate units. After much deliberation about how to do this while maintaining a close working relationship, the Tora group created their own unit under their own name. As before, Tora and Texas Raiders continue to perform together at airshows whenever possible and both the GCW and Tora units continue to run and operate the Wings Over Houston Airshow in conjunction with the Houston Wing.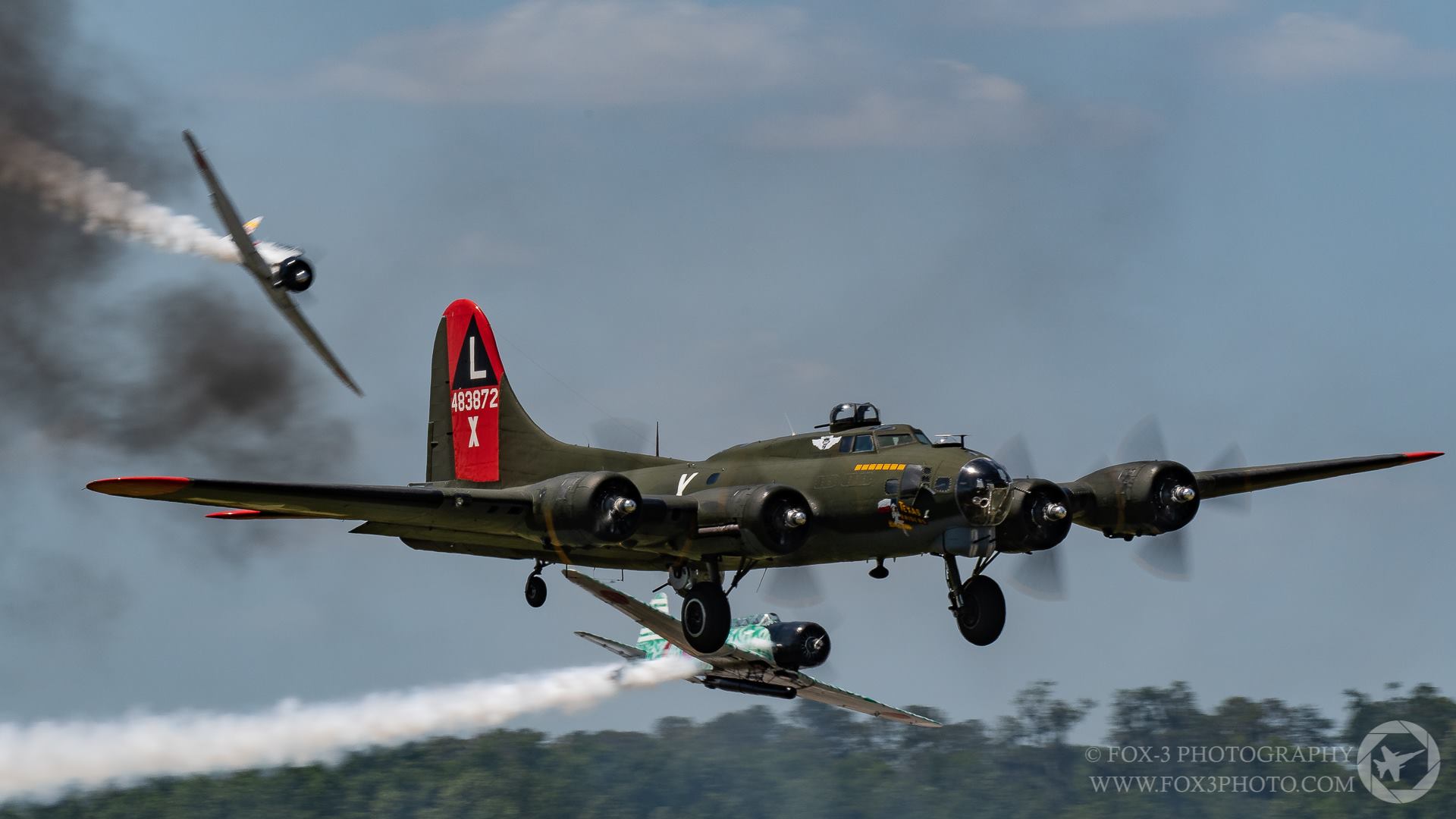 John Stauffer, Walt Thompson, Don Price, and Wayne Kennedy can be credited with leading the organization through these extremely difficult years following the Wing Spar AD and Unit split. The Gulf Coast Wing persevered and has since recovered quite well.
New Additions to the GCW Family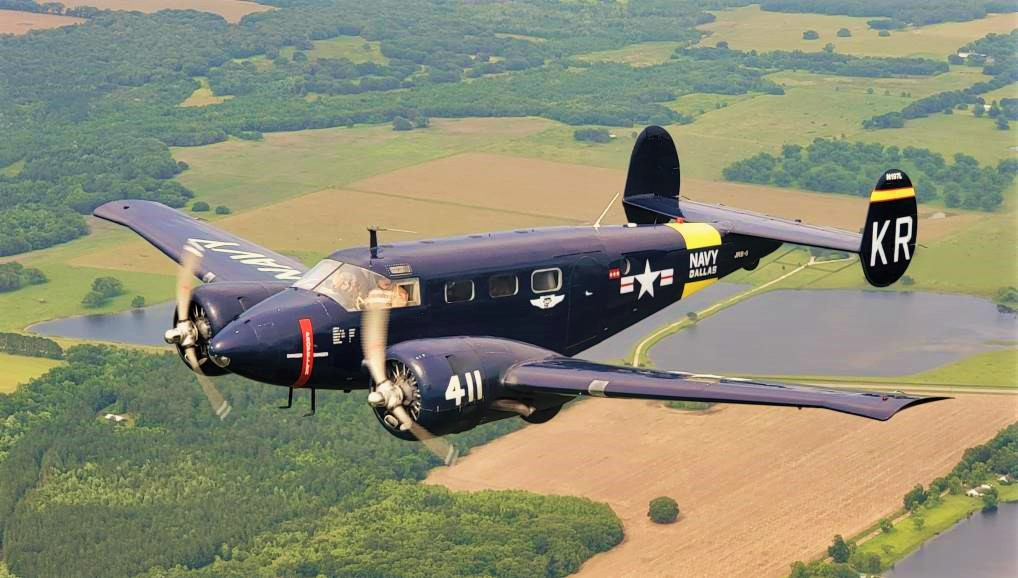 In August 2016 the Gulf Coast Wing welcomed a Navy JRB-6 transport (commonly known as "Twin Beech") to the family. This JRB-6 was built in 1947 as a Beechcraft Model D18S. Despite the Navy markings she currently wears, she saw only civilian service supporting various companies spanning many decades. The aircraft was in private hands prior to the Gulf Coast Wing acquisition of the aircraft. It is outfitted as a Vice Admiral's personal aircraft and as such offers a comparatively plush interior and ride.

The JRB-6 soon gained her name, Little Raider, via a selection process conducted by the Wing and joined the Living History Flight Experience program in 2018 offering up to five passengers the plush "Admiral's" ride for as little as $100 each. Like Texas Raiders, Little Raider, performs fly overs as well as the unique experience of flying nighttime holiday light excursions offered only in December.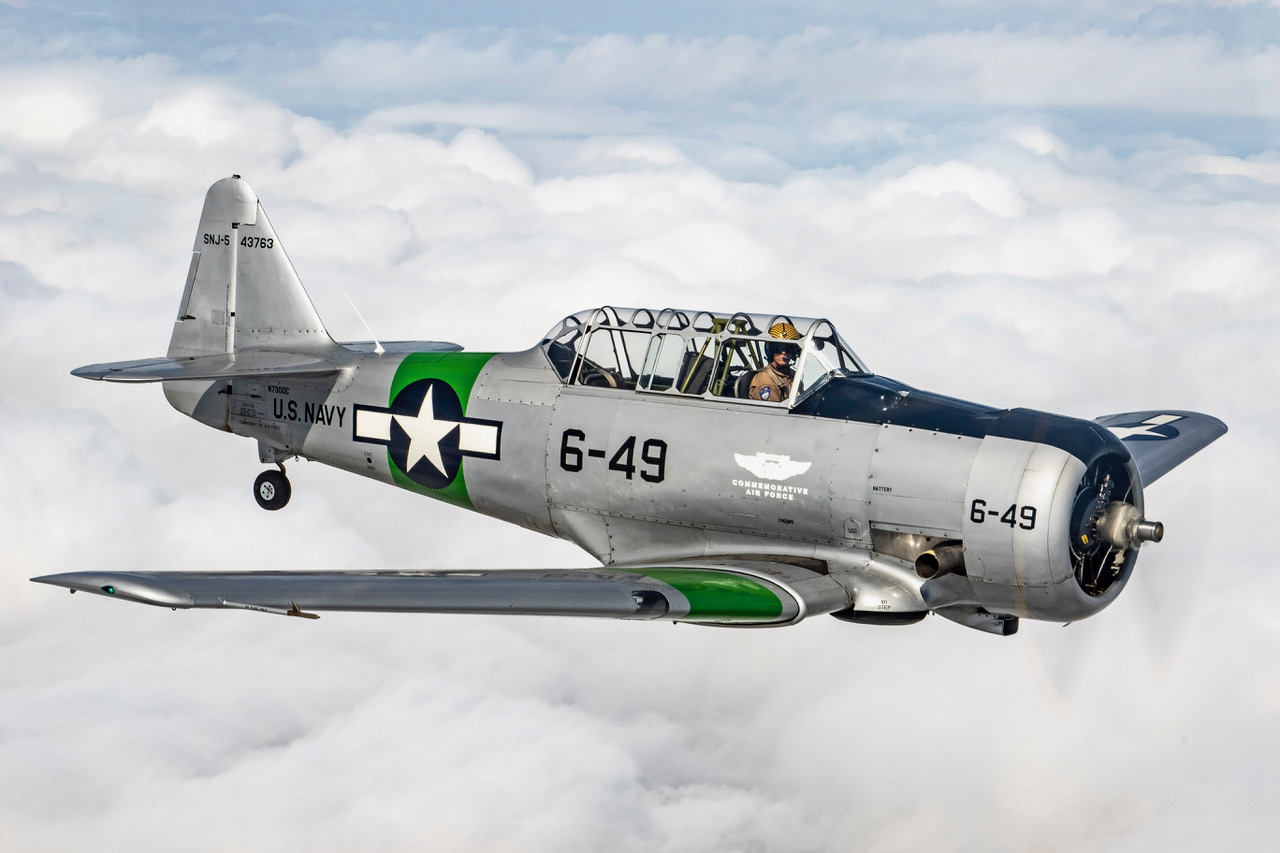 In August 2020, the Gulf Coast Wing proudly announced yet another new member of its growing fleet: A North American SNJ-5 Texan. This beautiful example of America's premier WWII advanced trainer immediately joined the Wing's other two aircraft on the touring and LHFE program where the aircraft promptly became a crowd favorite. Like a growing number of Texas residents, this SNJ is an ex-Californian, previously been lovingly cared for by the CAF's Air Group One in San Diego for 29 years. The Gulf Coast Wing is honored to continue the tradition of great care and responsibility that comes with the assignment of this aircraft.
This SNJ-5 was built in 1943 by North American and spent its time during the war at Pensacola Naval Air Station as an Instrument Trainer, teaching pilots skills they would need in critical situations to save their crew's lives and to bring their aircraft back to base. Incidentally, both of the paint scheme and markings were chosen to match what this aircraft carried during her wartime service. This SNJ-5 remained in Naval Service for many years after the war before being retired in 1960. The aircraft then passed through several owners until finally coming to the Commemorative Air Force in 1991. She was assigned to Air Group One in San Diego before coming to the Gulf Coast Wing.
Home in Conroe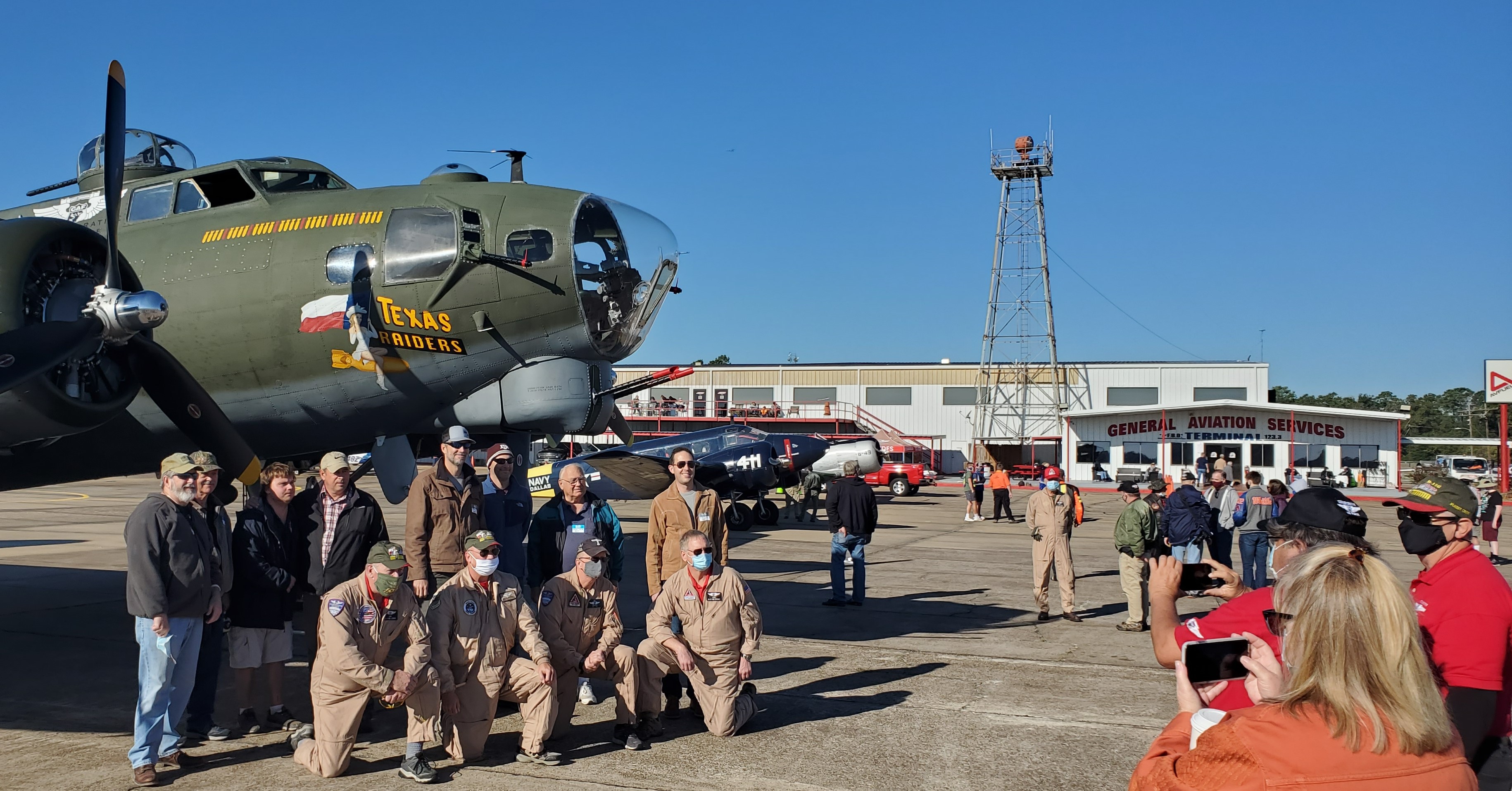 In 2017 the Gulf Coast Wing and its growing stable of aircraft relocated North once again. This time about a half hour's distance to North Houston Regional Airport in Conroe, TX at a hangar in General Aviation Services. This move allowed for much better facilities than what was available in Spring. In Conroe, the Wing can park all three aircraft without having to jockey other planes to get in or out. There is plenty of shop, storage, and workspaces to go with the hangar location.
In addition, this geographical location is outside of the Hurricane zone, flood zone, and away from salt air, so from an aircraft maintenance point of view this is the best we've ever had. Today our amazing group of volunteers have room to congregate, work on their labors of love, and make Texas Raiders, Little Raider, and the yet-to-be-named SNJ available to the public for tours and flights.
Current Operations
The B-17 Flying Fortress Texas Raiders, JRB-6 Little Raider, and SNJ-5 Texan perform in numerous airshows every year and visit dozens of locations across America. In doing so, the Gulf Coast Wing fulfills the CAF's core mission to educate, inspire and honor. The aircraft are flown, maintained, and operated through the tireless efforts of unpaid and highly motivated volunteers. Funding to pay for fuel, oil, parts, rent, insurance, etc. is obtained through donations, tour receipts, airshow appearance fees, and most importantly the Living History Flight program. Our leaders are surrounded by highly capable and motivated staff and volunteers. The unit has not only persevered through the Covid emergency but experienced a blockbuster year coming out of it.
Fans who have taken a Cockpit Tour in TR or a B-17 know how special these aircraft really are. The unique experience of a Living History Flight Experience (LHFE) with Texas Raiders or one of the CAF's other 177 aircraft, is an eye-opening and life-changing experience.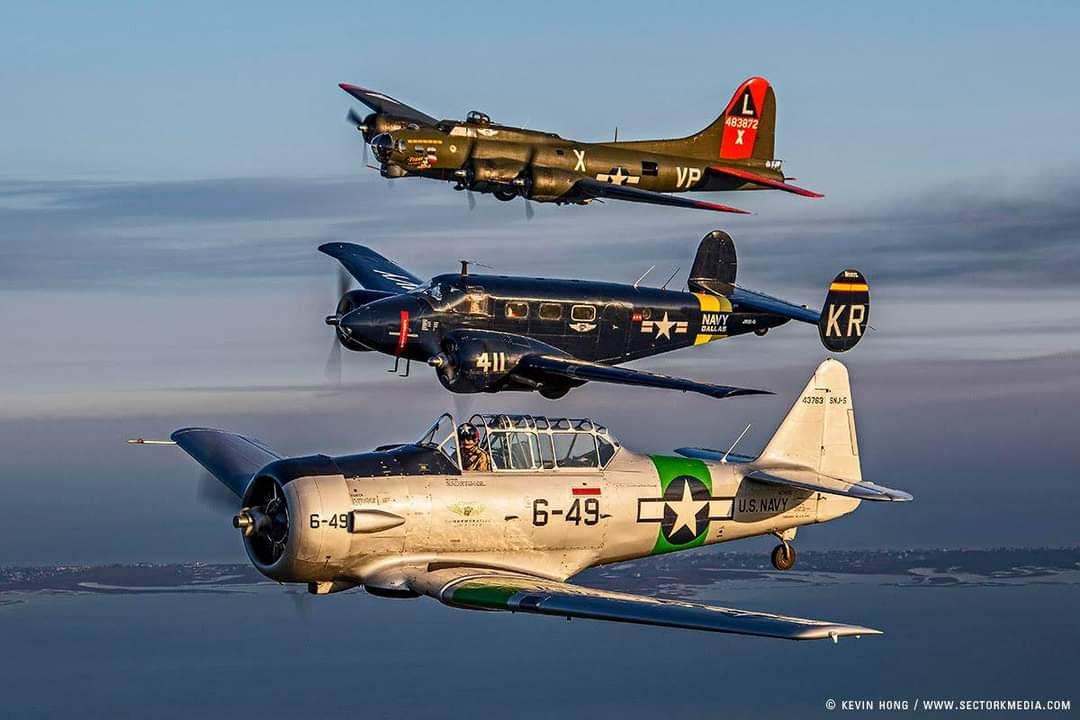 The FAA has only allowed such flights since 2001. Each year the FAA reviews and chooses whether to renew each operator's license to operate under the LHFE program. Each year it gets harder and harder to raise enough revenue to maintain the cost of operations. The CAF and the GCW are proud to have continuously maintained the ability to offer LHFE flights for 20 years. Not only is an LHFE flight a visceral experience available nowhere else, but today the revenue from Living History Flights quite literally represents the Wing's ability to continue actively flying and operating the aircraft. Some day in the future, warbirds like these will lose the battle against funding and be relegated to museums.
To take a ground tour or get the experience of an LHFE flight, please see: www.B17TexasRaiders.org to view the Wing's calendar, and find an event near you!
Become Part of the Team!
We are always looking for motivated volunteers. Not a pilot? Not a mechanic? Live out of state? No problem! We need volunteers of all kinds. All that we ask is that you work well with others, like to have fun, and want to be part of something bigger than yourself. If that sounds like you, bring your skills in mechanical, administration, electrical, sales, logistics, management, safety, metalworking, historians, accounting, marketing, or in literally any other background you can imagine (and oh yes, pilots!).
The Gulf Coast Wing can use your help!
Contact us at This email address is being protected from spambots. You need JavaScript enabled to view it. for more information or to plan a visit.

Conroe-North Houston Regional Airport

General Aviation Services
5260 Central Parkway
Conroe, TX 77303
---